Slide Lock
Improve Radio Shop Efficiency and Production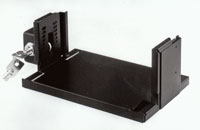 Time is money
Doing more with less. Tightening your belt. Efficiency. Cost Savings. We're all conscious of the costs of doing business and that we need to be more efficient to save money.
For many skilled technicians, perfecting their professional efficiency and job effectiveness is an ongoing, day to day effort. Frequently, it involves small gains to improve skills and technique. Technique may involve a certain procedure to disassemble a component or to reassemble it. The best technique is then selected as the way to accomplish the job each time.
Although many managers are concerned that the best technique be employed on each job, managers leave it to the technician to accomplish. From the view that the technician is paid for all of the hours of work each day, any labor savings gained by improved technique result in the possibility that more jobs can be accomplished in the same time period.
Taking an hourly rate into consideration, even minutes saved can be converted into more jobs being completed. From a charge out position, $60 per hour means that each minute costs $1.00 (assuming full production for each hour). Therefore ten minutes saved and employed on another job equals $10 saved.
One technician revealed that installing or removing a mobile radio from its mount in a restricted hard to reach location often took ten minutes or more for each screw because there was no sight line to the screw. The work has to be done blindly by feel.
A simple solution to cut job costs by improving efficiency is to mount mobile radios with the E TIP model ET-850 Locking Slide Mount or Slide Lock. The mobile radio is mounted to the Locking Slide Mount tray, once, when it is first installed. Thereafter, no more fumbling blindly with screws! To service the radio, simply unlock the mount and slide the radio out.
The ET-850 Locking Slide Mount also makes it easy to move different makes of radio from vehicle to vehicle throughout the fleet because it provides a standard mounting base.
Once a radio is mounted into the Locking Slide Mount tray it will easily fit into all the ET-850 Locking Slide Mount base mounts in the fleet. If the locking feature is not needed, simply leave the Locking Slide Mount tray unlocked because the lock cylinder design allows key removal in both the locked and the unlocked position.
The locking feature discourages radio theft, unauthorized removal and tampering as well. Recent national events have made us all aware of the need for increased security and the E TIP Slide Lock provides that security and increased efficiency as well.
Security devices protect your valuable equipment. Security devices that add value to your periodic or regular maintenance become more than just simple security devices.
The ETIP Slide Lock provides security and convenience in a black, powder-coat finish that is attractive in a luxury vehicle and yet rugged for use in a working vehicle.