King Pin Lock

for Fifth-Wheel Tractor Trailers
E TIP Model CP-KPL king pin lock
The king pin of a trailer is the pin that connects to the 'fifth-wheel' hitch on the truck or tractor. A king pin lock secures the pin, preventing unauthorized towing of the locked trailer.
King pin locks are part of a comprehensive security strategy. Cargo seals and trailer door locks (also known as trailer locks) help secure cargo. King pin locks help secure the trailer itself. King pin locks can also be used to indicate which trailers are ready to move or to be moved. Keep those trailers that aren't ready to move locked.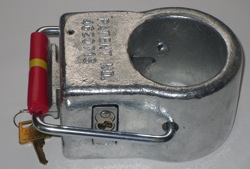 A handle is included with the CP-KPL to make it easier to carry and help to keep hands clean. A warning flag is included with each new CP-KPL to attach to and hang down from the lock when it is in position on a trailer. This warns other drivers not to back under because the lock is in place. If a driver does back under with the lock in place the tractor fifth wheel could be damaged or split from hitting the lock on the king pin.
Keyed alike is specified when multiple drivers may pick-up or drop off any of the trailers that are locked.
Keyed differently is specified when individual drivers have access only to the trailer they are to move. No other driver can open their king pin lock.
Many drivers who select a trailer to use from several in a storage area will place their keyed differently lock on their trailer selection while they are at the dispatch office checking out their selected trailer so that another driver cannot hook up to and drive away with that trailer.
Master keying is used when a supervisor must be able to open any of the king pin locks. Each driver has his own key and it will not open any other king pin lock, but the master key can open all of the locks.
The model CP-KPL fifth-wheel king pin lock combines high security, serviceability and durability with the simplicity and keying benefits of padlocks to help protect your trailers and their cargo.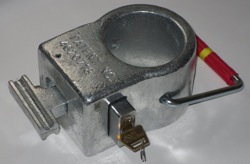 Security
Renders bolt cutters and power drills virtually useless. The padlock body holds the sliding bar in the locked position.
Durability
Cast from ductile iron to withstand maximum abuse.
Servicability
Can be assembled or disassembled in less than a minute.
Key Control
The CP-KPL is available keyed alike, keyed differently, or master keyed. (There is an additional charge for master-keyed locks.)
| | | | |
| --- | --- | --- | --- |
| CP-AM101-KA | Cast Ductile Iron w/2 keys each using the American #5200 Padlock (multiple locks will be keyed alike) | $94.35 USD | |
| CP-AM101-KD | Cast Ductile Iron w/2 keys each using the American #5200 Padlock (multiple locks will be keyed differently) | $94.35 USD | |
| CP-AM101-MK | Cast Ductile Iron w/2 keys each using the American #5200 Padlock (one key to open all locks in the set; individual keys to open only the local lock) | $99.00 USD | |
| CP-AM107 | Best Lock core (American Lock #3200) allows the user to install their own Best Lock core. The padlock comes without a core. | $94.35 USD | |
| AM-KEY | Additional American Padlock Keys, Standard (non-restricted) key number | $2.50 USD | |
| AM-KEY-RESTRICTED | Additional American Padlock Keys, Restricted key number | $4.58 USD | |
| REPL-AM-LOCK-CYL | Replacement American Lock Cylinder, with 2 keys | $12.50 USD | |