+1 630-966-8992 | Contact Us
Safe T Plus Steering Controls | Strobe Lights | Personal Strobe Light | LZ kit | Physical Mobile Radio Security | Radio Cage | Slide Lock | King Pin Lock | Pintle Hitch Lock | Skid Lock | PortaSafe | Aerial Work Platform Control Module Security Lock | Universal Preheaters | Professional Debris Picker | EZ Reacher® | YouTube Channel
---
Landing Zone / Scene Safety Kit
For defining Temporary LZs for Emergency Helicopters
Our Landing Zone Kit provides all you need to quickly and easily deploy an LZ with minimal manpower.
Four lights are placed to outline the landing zone and the fifth indicates wind direction. Each high-intensity light provides 3 hours of continuous and up to 5 hours of intermittent use.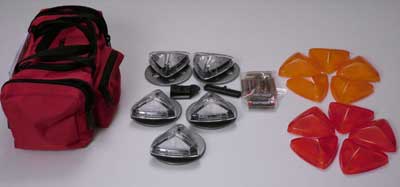 Order your Landing Zone Kit now!
Each triangular-shaped light is about 3.25 inches per side and about 1.5 inches high with a power (on-off) switch at the back. With the steel Weightwasher attached, height increases to 1.75 inches and the assembly occupies a 4 inch diameter area. The kit weighs slightly over 5 lb. in the carry case (Cordura double stitched fabric, 1000 denier): 11.5" X 8.25" X 4.5". Each strobe is powered by 2 AA batteries.
The LZ Kit includes:
5 LightMan strobes
5 clear lenses (recommended for LZ delineation)
5 red lenses
5 amber lenses
5 steel Weightwashers (prevents the light from moving in the prop wash)
1 Cordura double stitched fabric carry case
| | | | |
| --- | --- | --- | --- |
| 65000 LZKIT | Temporary Landing Zone kit, featuring the LightMan strobe products | $249.95 USD | |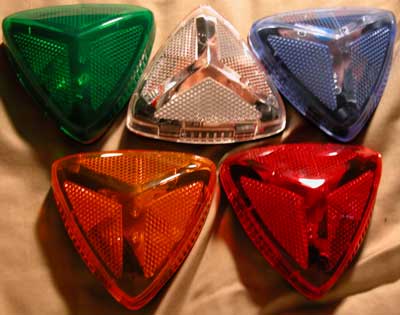 ---
---
Options:
Anywhere Bolt - secure the strobe almost anywhere
Blue lenses
Green lenses
Lithium batteries (double the shelf life of Alkaline)
The LZ kit can be used for a variety of purposes besides providing an excellent landing zone solution:
marking safe areas
traffic control
personal safety/visibility light
About the LightMan Strobe light:
Xenon Flash Tube

Brilliant strobe can be seen up to 3 miles from the air at night. 83 flashes/minute. 800,000 candlepower.

Portable

Operates for 3-7 hours on 2 AA batteries.

Compact/
Lightweight

3-1/2 inches each triangular side. Weighs 3-1/2 ounces including batteries.

Impact & Weather resistant

Rugged construction that is reliable in extreme weather conditions. Operates from -40 degrees F with Lithium batteries.

Safe

No danger of fire or spark.

Multi Purpose

Easily attaches to belt, clothing, vehicle, traffic cone, reflective triangle, bicycle, backpack, guardrails...
Motorists, Police, Fire and EMS, Truck Drivers, Towing, Bicycling, Walking, Jogging, Camping, Boating...
Request more information for this product
---
About ETIP, Inc.

Veteran Owned Small Business
Press / Media | ETIP Store on ebay | ETIP Videos | About ETIP, Inc. | Freight / Shipping | Contact Us
We reserve the right to change product specifications at any time without notice and without obligation.
Copyright © 1998-2018 • www.etipinc.com • All Rights Reserved • Terms of Use
E TIP, Inc. • P.O. Box 83 • North Aurora, IL 60542 • 630-966-8992 • Fax: 630-801-9569
We accept Visa, Master Card, PayPal, purchase orders and credit terms (for qualified applicants).