"We Need The Radios!"
Physical Mobile Radio Security
Theft, tampering, vandalism, unauthorized removal, misplaced devices or transfer ... all of these can prevent the use of your vital radio equipment. Dependable communications are a requirement to meet today's challenges.
Will your mobile radios be there when you need them?
A variety of spacer kits and mounting packages are available that allow any of the several models of Radio Cage or the Slide Lock to accept several models of radios. If an end user changes radios, he doesn't necessarily change Radio Cages or Slide Locks.
Both the Radio Cage and the Slide Lock can be mounted overhead, horizontally or vertically.
E TIP, Inc. designs locking mobile radio mounts. Consider that not only your radio communications would be protected, but your financial investment as well. Today's high performance equipment is expensive. Contact us about your specific needs.
E TIP Locking Radio Cage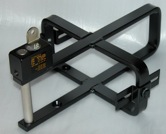 This model provides High Physical Security for fleet communications even in the highest risk areas. Case hardened steel bars protect equipment on all sides from tampering, unauthorized removal and theft. A removable steel bolt with a Medeco lock cylinder completes the security.
When properly installed the mounting bolt heads are covered and protected by the radio.
The Radio Cage offers our highest level of radio protection. Its tough construction helps protect equipment from all but the most rigorous and sustained assaults (when the radio is likely to be destroyed rather than stolen). Case hardened construction and concealed mounting hardware provide protection from most attacks. This construction also helps protect the radio from physical damage caused by careless handling and storage of equipment in the vehicle trunk.
Request more information for this product
ET-850 Locking Slide Mount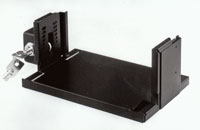 Our ET-850 Slide Lock provides convenience, ease of use and security in a black, powder-coat finish that is attractive in a luxury vehicle and yet rugged for use in a working vehicle.
The ET-850 is a basic platform designed to accept many different makes and models of mobile 2 ways. Transfers of different radios across the fleet are accommodated easily and quickly. Technicians report saving labor with the ET-850 in radio transfers and putting an end to blind fumbling to reach hidden fasteners. Fleet Communica- tions Managers appreciate the security and the improved efficiency of the ET-850 Slide Lock.