+1 630-966-8992 | Contact Us
Safe T Plus Steering Controls | Strobe Lights | Personal Strobe Light | LZ kit | Physical Mobile Radio Security | Radio Cage | Slide Lock | King Pin Lock | Pintle Hitch Lock | Skid Lock | PortaSafe | Aerial Work Platform Control Module Security Lock | Universal Preheaters | Professional Debris Picker | EZ Reacher® | YouTube Channel
---
Slide Lock for Mobile Radios
Protect your radio for only $99.95 $65.00 USD - Limited Time Offer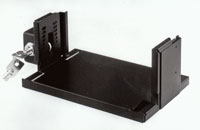 E TIP Model ET-850 Security for Fleet Communications
The ET-850 Locking Slide Mount provides convenience, ease of use and security in a black, powder-coat finish that is attractive in a luxury vehicle and yet rugged for use in a working vehicle.
The ET-850 is a basic platform designed to accept many different makes and models of mobile 2 ways. Transfers of different radios across the fleet are accommodated easily and quickly. Technicians report saving labor with the ET-850 in radio transfers and putting an end to blind fumbling to reach hidden fasteners. Fleet Communications Managers appreciate the improved efficiency of the ET-850 or Slide Lock.
A simple solution to cut job costs by improving efficiency is to mount mobile radios with the E TIP model ET-850 Locking Slide Mount or Slide Lock. The mobile radio is mounted to the Locking Slide Mount tray, once, when it is first installed. Thereafter, no more fumbling blindly with screws! To service the radio, simply unlock the mount and slide the radio out.
The ET-850 Locking Slide Mount also makes it easy to move different makes of radio from vehicle to vehicle throughout the fleet because it provides a standard mounting base.
Once a radio is mounted into the Locking Slide Mount tray it will easily fit into all the ET-850 Locking Slide Mount base mounts in the fleet. If the locking feature is not needed, simply leave the Locking Slide Mount tray unlocked because the lock cylinder design allows key removal in both the locked and the unlocked position.
The locking feature discourages radio theft, unauthorized removal and tampering as well. Recent national events have made us all aware of the need for increased security and the E TIP Slide Lock provides that security and increased efficiency as well.
Read more about how the Slide Lock can save money and improve efficiency.
&nbsp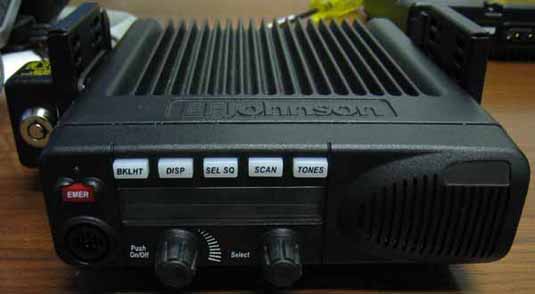 &nbsp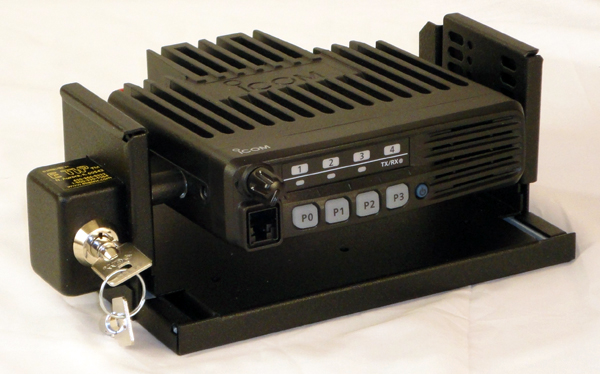 &nbsp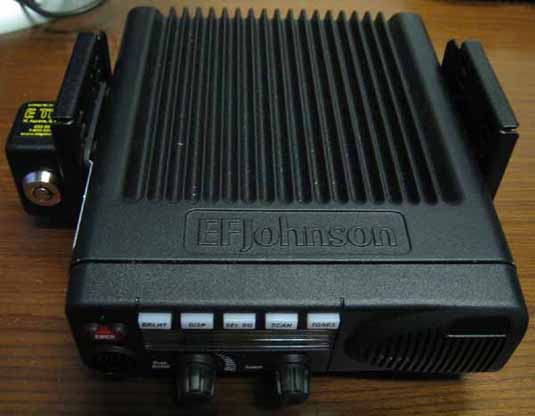 &nbsp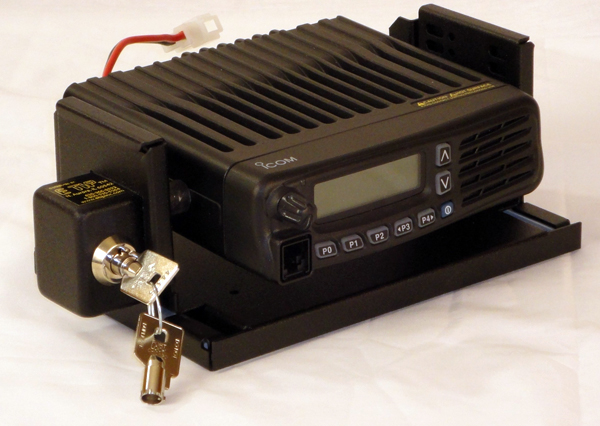 &nbsp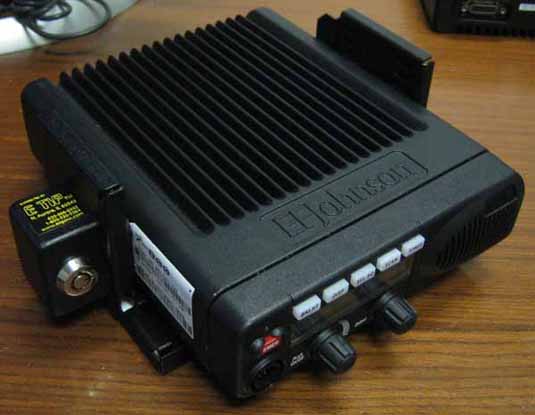 &nbsp
&nbsp
Dimensions
Length: 9-1/4"
Width: 5-3/8"
Height: 3-9/16"
Maximum Radio Width: 7-3/8"
Features
| | |
| --- | --- |
| SECURITY | Helps control theft, tampering and unauthorized transfers. Protecting assets is a concern and has even greater importance today. Maximum security is achieved by simply and quickly removing the slide tray with the radio to a secure location. |
| VERSATILITY | Fits Harris Corp. (M/A Com, Ericsson), ICOM, Johnson, Kenwood, Motorola (Vertex), Uniden, Yaesu among others. By design the ET-850 Locking Slide Mount accepts many different makes and models of mobile radios. A standard base and slide tray uses adapters to fit different radios to the slide tray. A variety of equipment can be installed and easily interchanged throughout a fleet while controlling unauthorized removal and transfers. |
| APPLICATIONS | The most common use is in vehicles. Other uses include watercraft, command centers, construction office trailers, off road equipment, farm equipment, police and fire equipment, etc. Call for pricing. |
| *Note: | For high-security mobile radio security, ask about the Radio Cage, also available from E TIP, Inc. |
Supported Radio Makes and Models
ICOM
F2821
F5011
F5021
F5061
F6011
F6061
IC7100
ID880H
HARRIS, M/A COM and GE
725
E500M
Jaguar
KMC
M7100
M7200
M7300
M803
MDR
MDX
MLS
MTD
MV5
Monogram
ORION
Panther 300
PCX
TMX8825
Unity Mobile
Kenwood
705D
760
762
782
790
805D
860
880
NX700HK
TM271A
TK7180
TK730
TK7360
TK930
TK940
Johnson
5300
7610
8600
Motorola
CMD1250
CM200
CM300
CM400
GM300
M1225
MaxTrac
MCS2000
Mototrbo XTR
XPR4350
XTL1500
Relm
DMH5992X
TAD of Canada
M10
Vertex
1011H
FTL
FTL7011
VX2000
VX3000
VX6000
Yaesu
FT2900R
FT857D
FT8800
| | | |
| --- | --- | --- |
| Model ET-850 Slide Lock | $65.00 USD | |
Quantity discounts available when 10 or more Slide Locks are purchased. Call us for more details.
---
About ETIP, Inc.

Veteran Owned Small Business
Press / Media | ETIP Store on ebay | ETIP Videos | About ETIP, Inc. | Freight / Shipping | Contact Us
We reserve the right to change product specifications at any time without notice and without obligation.
Copyright © 1998-2018 • www.etipinc.com • All Rights Reserved • Terms of Use
E TIP, Inc. • P.O. Box 83 • North Aurora, IL 60542 • 630-966-8992 • Fax: 630-801-9569
We accept Visa, Master Card, PayPal, purchase orders and credit terms (for qualified applicants).